Land Use and Development Electronic Handbook Now Available
Release Date: April 21, 2011
The Town of Dover has prepared a Land Use and Development Electronic Handbook that is available for download.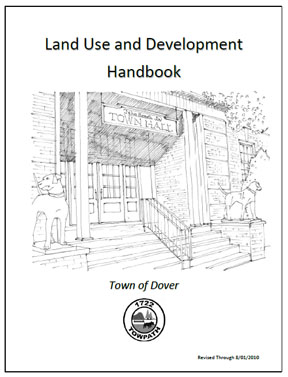 The Town of Dover has prepared an Electronic Land Use and Development Handbook for reference and assistance with the Town's Land Use Codes. It also includes Maps and Application Forms for Planning Board, Board of Adjustment and Historic Preservation Commission Application's and Zoning Permits.

Also included is a handy Zoning Table for quick reference and The Bassett Highway and North Sussex St. Landfill Redevelopment Plans.

The Handbook features an interactive Zoning Map with links directly to the pertinent Zoning Code Section.

All sections are bookmarked for easy lookups.

The FIle is 10 MB so download time may be slow.

Click Here to access the Handbook.