Guenther Mill Redevelopment Plan Smart Growth Award
Release Date: June 08, 2017
The Town of Dover's Guenther Mill Redevelopment Plan was selected from a host of other nominated projects as one of the winners of the 2017 Smart Growth Award from New Jersey Future.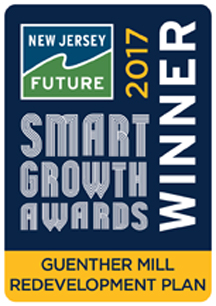 The Guenther Mill Redevelopment Plan was a 2017 Smart Growth Award winner selected by New Jersey Future.
Founded in 1987, New Jersey Future is a nonprofit, nonpartisan organization that promotes sensible growth, redevelopment and infrastructure investments to foster vibrant cities and towns, protect natural lands and waterways, enhance transportation choices, provide access to safe, affordable and aging-friendly neighborhoods and fuel a strong economy. The organization does this through original research, innovative policy development, coalition-building, advocacy, and hands-on technical assistance.
Since 2002, New Jersey Future has honored Smart Growth Planning and Development in New Jersey through the Smart Growth Awards. Award winners represent the best examples of sustainable growth and development in the state. The Town of Dover is honored to be recognized with this award.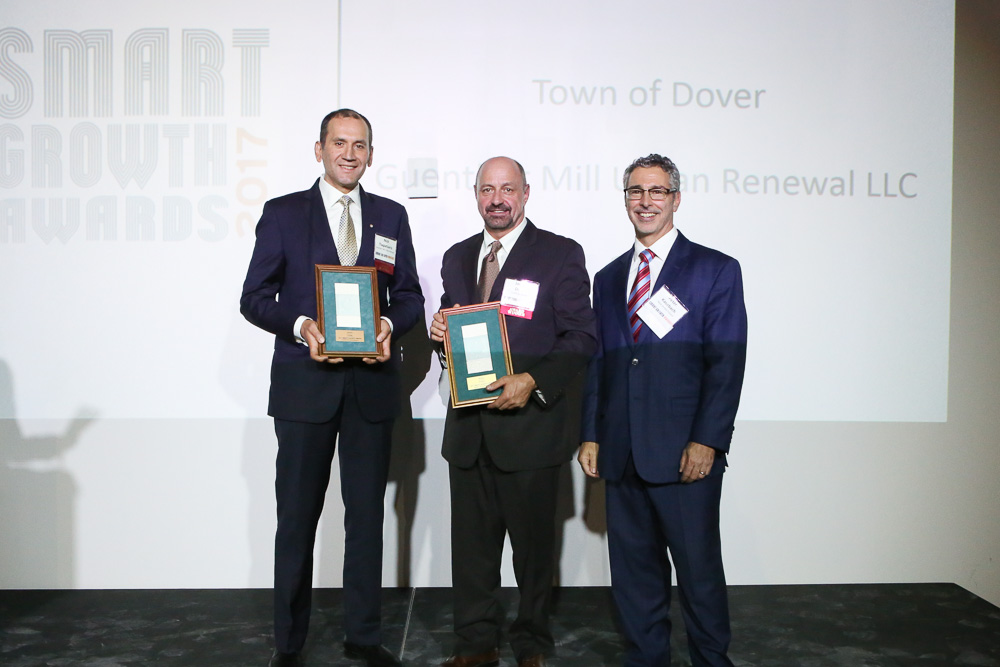 Mayor James P. Dodd (center) and Developer Nick Tsapatsaris (left) recieve the 2017 Smart Growth Award from NJ Future Executive Director Peter Kasabach
Smart Growth Award Video
Click Here to view the Award Winning Guenther Mill Redevelopment Plan