Mayor Carolyn Blackman
(Term Ending on December 31, 2023)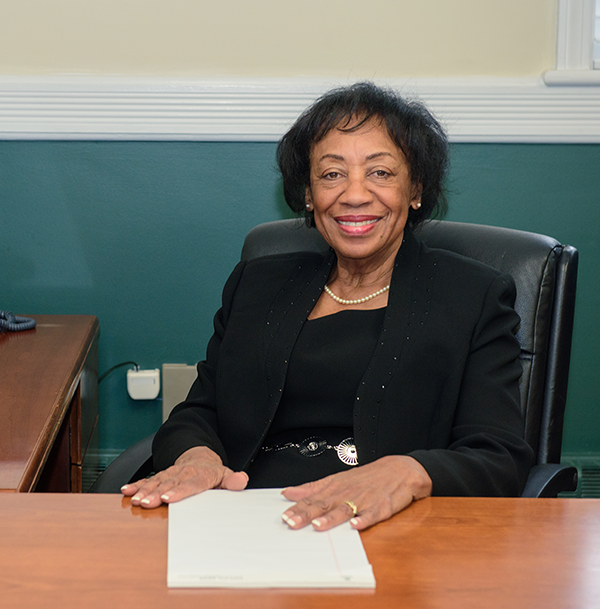 Mayor Carolyn Blackman
Town of Dover
37 North Sussex Street
Dover, NJ 07801
Tel.: (973) 366-2200 ext. 1144
Email: cblackman@dover.nj.us
Message to Residents:
STATE OF THE TOWN ADDRESS
TOWN OF DOVER, MORRIS COUNTY, NEW JERSEY
MAYOR CAROLYN BLACKMAN
JANUARY 5, 2021
Every year, we, as Americans, along with people from all over the globe gather to bid farewell to the year that has passed and to celebrate the hope and promise of the New Year and the fresh start it offers us. This year, we do this with gusto! Good Riddance 2020!!
As we all know, the world-wide COVID-19 pandemic continues to hold us in its grip despite the hope promised by the vaccine.
Dover residents, like many other minority-majority cities and towns across our nation, were and remain at high risk due to many pre-existing socio-economic factors. I acknowledge the pain and suffering that we have endured both individually and collectively as a community. I empathize and pray for those impacted by this dreadful disease, and I mourn for the families of the 64 neighbors from Dover who have passed due to the virus.
I ask for a moment of silence in acknowledgement of the 64 members of all those who have suffered as a result of this worldwide pandemic.
Our businesses also suffered, but with true Dover determination, they found innovative ways along with the support of this administration to serve their customers within the confines of new laws and Executive Orders to keep going. We on the Board applaud you!
To promote awareness and safety, and to flatten the curve, we created a comprehensive COVID-19 plan, which included, but was not limited to extensive educating, testing, contact tracing, and enforcement.
The Town formed the Dover United Network, a coalition of non-profit and faith-based organizations, that provided countless pounds of food, hot meals, and personal care items to residents of our Town.
I look forward to a post-pandemic Dover with all of the joy that a return to normalcy will bring to each of us, but especially to our children, who have suffered not only with their own illness, and the illness and loss of their loved ones, but also with the loss of their childhood.
Along with daily social interaction, important milestones such as weddings, graduations, funerals and birthday parties have been postponed or canceled.
Although I deeply feel the pain of our losses across all domains, I was and remain confident the people of our community shall overcome our suffering and thrive in 2021 and beyond.
Even with all of the tragedy that we faced in 2020, there were many highlights and things to be celebrated with respect to our Town government. I am proud to say this Board of Aldermen has delivered on virtually all of our campaign promises.
In year one of this administration, we focused on legislative and policy development, defining and implementing the philosophical underpinnings and values driving this administration. We passed an open government ordinance to comply with this Board's open government initiative that will increase transparency and make the public aware of any conflicts of interest. We further set about changing the climate and culture of Town Hall; making government work for all of our residents, not just a select few.
Year two will focus on continued implementation and refinement of all those efforts. Even though I would love to review each and every success in all of our departments in year one, there is simply not enough time this evening; however, I will review some of the highlights:
Despite inheriting an absolute financial mess from the previous administration, as proven by the 2019 Audit and Auditor's report provided recently, we have begun the long, difficult process of getting the Town's financial affairs in order. The video of the Auditor's report is available to watch on the Town's YouTube channel. The actual report is available on the Town's website.
This administration inherited a budget deficit of over 2.1 million. We also inherited a dangerously low fund balance of available monies, which is the Town's "rainy day" fund, with roughly 900k effectively available, which is 60% LESS of what it was in 2019 due to overspending in the last year of the previous administration.
We also inherited an extremely troublesome level of pending tax appeals which will provide financial stresses on the municipal budget for many years to come.
Through eliminating irresponsible spending, defunding the budget of certain positions, eliminating positions, refraining from filling open positions, reducing full-time positions to part-time, shared services agreements, and attrition, we cut over $500,000 to reduce the impact of tax increases to homeowners.
The areas of public health and safety dominated public attention on the national, state, and local levels in 2020. In Dover, we streamlined spending, promoted racial equity, and complied with the open government initiative all while expanding services, increasing efficiency and accountability, and establishing high standards for health and public safety:
Interim Town Administrator Senator John Bennett renegotiated the existing shared-services agreement with Mount Olive for Health Officer services and Nursing services to provide higher quality services at a lower cost to taxpayers.
Spearheaded by Alderwoman Judy Rugg, Chair of the Health Committee, we eliminated public nursing services under that agreement and instead formed a public-private partnership with Dover General Hospital.
The Hospital will provide the Municipality with a bi-lingual Advanced Practice Nurse (APN) for 16 hours per week.
This is the first time our municipality will be served by an APN and the first time this Municipality will be served by a bi-lingual nurse.
As a bonus, this program is saving the Town $20,000 dollars as compared to the contract required extension of the agreement negotiated by the previous administration, in addition to providing a higher level of service with an organization in our Town.
With respect to the police department, the Board of Aldermen implemented the following actions:
Promoted Deputy Chief Jonathan Delaney, who was born and raised in Dover, which made operations more efficient
Continue to hold open the positions of Public Safety Director, Chief, and Captain which were filled in 2019, but were vacated in 2020, which has resulted in savings in salary and benefits in excess of roughly $500,000 moving forward.
Implementing schedule modifications to reduce unnecessary overtime spending, which in 2019 was $376,596 and in 2020 was down $159,000 or 42% to $217,766
The promised audit of the police department is an organic, ongoing process; during the audit, our Deputy Chief Delany and our expert consultant, Richard Rivera, jointly made several recommendations, which have already been implemented, such as:
Audit of Internal Affairs files and closed out numerous pending Internal Affairs cases from previous administration
Appointed a new, Hispanic, bilingual, and properly trained police sergeant as the Internal Affairs Investigator
Publicly posted officer commendation and complaint forms in main lobby for public access for the first time in department history
Posted Internal Affairs policy on the department website for public access for the first time in department history
Hired additional Class II officers in 2020 to walk the beat in the business district and assist with COVID-19 education & enforcement
Peacefully managed large-scale demonstrations without a single arrest or injury despite marching in streets, including the demonstrators shut-down of state highway Route 46
Developed and implemented a new patrol vehicle rotation program that will allow us to ensure that we have safe, reliable vehicles for our officers to better serve our residents
We formulated an internship program to promote interaction and trust with youth with the input of Detective Raziel Aragon based on his experience as an intern with the NYPD prior to coming to Dover
We also are investigating instituting a Police Explorer program to further provide opportunities for youth to have positive interactions with police and investigate law enforcement as a career.
We also implemented a revised SRO Program with the Dover Public Schools. The schools will have 4 Class III Officers, who are specially trained to work in schools and with young people. This revised program, in addition to providing our youth with a chance to interact with police in a positive way, will also increase security.
The Fire Department has also had many successes in 2020 including answering 2,400 calls, which included 1,014 fire calls and 1,386 squad calls, of which 306 were COVID-19-related. Our Fire Department safety was excellent and I am proud to report there was not one case of COVID-19 traced to any members of our Fire Department as a result of a call. This speaks volumes to our Department's protocols and professionalism.
The Board and I want to also recognize the Fire Department for their expert handling of a residential fire in the Second Ward, which resulted in property damage, but no personal injury or loss of life. In a Town such as ours with 50 by 100 lots and many wood-frame houses with balloon construction that are 100 years old or older, a fire can easily spread to neighboring homes; however, due to the vigilance of our department, the fire was contained.
As promised during the campaign, the Town retained an expert consultant, Phil Parr, to evaluate the Fire Department and develop a strategic plan for now and the future. A joint recommendation of our expert and our Fire Chief, John Filosa, was to promote Jon Sperry to Captain to promote efficiency within the department. Captain Sperry is a dedicated member of the Department who comes from a family that has served our Town in different capacities for decades. Also based on a joint recommendation of our expert consultant and Chief, we are hiring one more fireman, which will bring our professional staff to its recommended capacity.
Chief Filosa is also leading a campaign to recruit new volunteer firemen for our Department, including the implementation of a Fire Explorer Program for youth. In 2020, even during this pandemic, we swore in 5 new members. This program serves many purposes, such as introducing people to a potential career, provides them with an opportunity to lead and give back to their community, and with more volunteers we can potentially limit the number of new hires for the paid Department, which we may have to increase dependent upon any increases in population in our redevelopment projects.
Redevelopment is a hot-topic in our Town. This Board inherited two projects initiated under the previous administration that had been mostly subject to previous agreements. Specifically, the Meridia Transit Plaza located on Dickerson Street and the Veteran's Preferred building located in the Prospect Street Parking Lot.
There were and remain aspects of those projects already negotiated under the previous administration, this Board did not agree with, such as financial arrangements, footprint, scale, setbacks, street closure, and design.
Thankfully, there were financial aspects of each of those projects that we were able to renegotiate and, as a result of that hard work, achieved much, much better deals for the taxpayers.
Specifically, with respect to the Pennrose Veteran's Preferred project, we renegotiated the finances so the Town received in its coffers an additional $180,000 over the deal worked out by the previous administration.
With respect to Meridia, the Town received 7.8 million dollars towards the return of the capital grant cash given to Meridia under the previous administration and negotiated an additional $350,000 above what was agreed to by the previous administration towards the redevelopment fee paid by Meridia. The Town received these funds on December 31, 2020.
Another campaign promise fulfilled with respect to redevelopment is the abandonment of the previous administration's astronomically high cost plan to convert the former Newberry's Building into a confusing mixed-use of Town Hall official offices and private spaces. The purchase price of the property along with the proposed renovations of that building for that purpose was roughly in the 13 million dollar range.
Instead, we have scrapped the previous administration's plan and instead put out a Request for Proposals (RFP) to potentially sell the property to redevelopers that provide us with concepts for uses that will maximize the property's potential and be in the best interests of the Town.
As far as general legal matters are concerned, we favorably settled many outstanding lawsuits that we inherited from the previous administration. We renegotiated the redevelopment deals, as explained earlier, and our legal expenses in our legal budget dropped approximately 25% from the previous administration's expenses in 2019 as compared to ours in 2020. This savings was possible even in light of the fact that we initiated a new mediation program and had additional 2020 costs related to the legal/personnel matters required for COVID-19 regulation compliance.
In our Finance Department, we ultimately replaced the Chief Financial Officer (CFO) who retired in February of 2020, with a part-time Interim CFO. We have determined that with the right mix of personnel, a part time CFO can more than manage our finances and we have initiated negotiations to enter into a shared-services agreement with another municipality to provide CFO services, saving substantial payroll & benefits cost savings to the Dover taxpayer. This agreement is close to being finalized and will be a huge win for Dover and a further delivery on our campaign promise to streamline spending and increase efficiency while enhancing services; all part of providing Good Government!
We are very proud of our Department of Public Works and all they have accomplished in 2020 despite very challenging and unprecedented circumstances under the leadership of DPW Superintendent Jeff Guevara who took over when the Director retired earlier this year.
The Personnel and Finance Committees decided not to replace both the Director of DPW and a supervisor upon their retirement, due to the severe financial problems we inherited from the previous administration. Through holding off on filling the DPW Director role and the supervisors and shuffling their responsibilities to other current employees, the Town has saved $150,000 in 2020 and we are projected to save $325,000 in salaries and benefits in 2021.
Despite the reduction in manpower and often working with a skeleton crew due to COVID-19, our DPW had the following outstanding achievements in 2020:
Hosting and assisting with the Table of Hope Food Drive, which fed over 4,000 families in 2020
Providing uninterrupted, Town-wide public works services during the pandemic including curbside leaf pick-up with skeleton crew
Quick clean up and removal of debris and unsafe trees and fallen branches during Hurricane Isaias
Quick, efficient, and thorough plowing and snow removal during the storm of December 16-17, 2020, which brough heavy snowfall early in the season.
Due to COVID-19, our Recreation Program Department offerings were limited to virtual experiences. However, we have been planning for the post-pandemic period and trust me when I say that our residents will have many more opportunities to engage with one another with new programs in 2021.
The Joint Municipal Court of Dover was disbanded under the previous administration. We believe that was not in the best interests of the Town. We intend to expand the current shared court that we have with Victory Gardens to include other surrounding Towns. To get that initiative started, we are appointing two judges, as we had under the pre-existing joint court. Both of our new judges have experience in Dover in the joint court and that is one reason why we are bringing them back. The Board and I look forward to expanding the court, as it will cut our operational costs.
Our efforts to secure grants resulted in $421,524.16 in approved applications and funding awarded. We will continue to seek grant monies to offset costs to our taxpayers in 2021.
In 2021, we will fill a vacant position in our Code Enforcement Department with a Code Enforcement Officer, so we can continue to ensure compliance with property and maintenance and stacking ordinances.
Our Construction Department has capital improvement plans for street and infrastructure rebuilding projects in each of our four wards. The projects will be announced and will go out to bid by the end of February. Here are some other highlights:
Completion of Small Cities Project which included Third, Fourth and Fifth Street as well as a portion of Penn Avenue Roadway Reconstruction Project. Completion of Williams Street Roadway Reconstruction Project.
We have successfully attracted several redevelopers to Dover that are interested in various projects throughout the Town which include the old State Labor building, and the old Attilio's site on Rt. 46. There are also discussions regarding the Harry Loory site, 200 E. Blackwell Street and several additional locations along NJSH Rt. 46.
We have successfully obtained a grant from the NJDOT for $412,000 to make roadway and drainage improvements to White Street.
We are nearing the completion of the Rutgers Street bridge located at Waterworks Park with a new 2 lane bridge that will replace the old one lane bridge. Completion is expected within the next 3 months.
The Water Commission started capital improvements in 2020 that will be finalized in 2021 to upgrade our water supply system, to ensure that we continue to provide equitable access to safe drinking water.
Finally, we are so excited about the upcoming 300 year anniversary of the founding of our hometown in 2022. I will be announcing a committee at an upcoming meeting to help spearhead the efforts. We will be celebrating this incredible milestone for a full year...I think after all that we have been through with the pandemic, a great remedy would be a year-long party! I can't wait!
Please, to any and all who are interested in working on this Celebration or any other activity or committee within the Town, please go to our website and volunteer by submitting your name to the volunteer bank. Several of my appointments tonight actually came from this and I encourage everyone to submit.
I am inspired, humbled, and grateful as I reflect upon the dedication and successes of this Board of Aldermen and our Town employees in these challenging times.
I am thankful for our Town, our residents, and our Churches, businesses, and non-profit organizations for their patience, support, and kindness to others in need.
I am grateful and thankful for the trust the people of Dover have placed in this Board and me to deliver good government and improve the quality of life here for every resident.
And I am both humbled and proud to be your Mayor, as together we look to a bright future, which is the promise of 2021.
Thank you.