Water Commission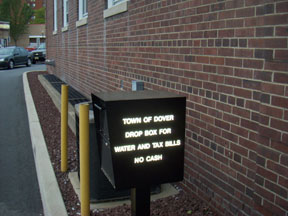 For your convenience a payment DROP BOX is located at the south east corner of Town Hall on the river side.






Robert Kinsey - Water Superintendent Fran Maenza - Admin Assistant
(973) 366-2200 Ext. 2143 (973) 366-2200 Ext. 2125
rkinsey@dover.nj.us fmaenza@dover.nj.us

For after hours water emergencies, please contact the Dover Police Department, non-emergency phone number at 973-366-0302

Water Commissioner 2020 Meeting Schedule

The Board of Water Commissioners meets at 6:30pm at 100 Princeton Avenue on the following dates:

April 14th ****This meeting has been canceled****
Billing/Payments

Account balances over 30 days are subject to immediate shut off of water. Please make payments in a timely manner. Payments are accepted online, in the payment drop box, by mail or in person. Each zone is billed quarterly. Account balances can be viewed by using the online payment system.
Please call 973-366-2200 Ext. 2125 for more information.

Transferring Billing from Owner to Tenant

CLICK HERE for an OWNER/TENANT Transfer Billing Request. Return the completed form to the Water Department. A "Final Reading" must be secured prior to the tenants moving out and/or the tenants moving in. Please call the Service Department at 973-366-2200 Ext. 2125 to schedule an appointment for a Final Reading. A $21.00 reconnect fee/new account fee will be charged on the tenant's first water and/or sewer bill.

Outside Water Meters

If you have an outside water meter, please call your meter readings in annually. Please bring the meters inside during winter months as these meters can freeze during cold weather.

Information
New Policy for Water Service Applications (Click Here)
Water System Procedures Manual (Click Here)
EPA Monitoring Requirements Sampling Schedule Update - 8/11/2015 (Click Here)
Using Water Efficiently (Click Here)
2013 "Solutions to Stormwater Pollution" Brochure (Click Here)
Plumbing Repair Help Sheet (Click Here)